We have Mikhail Kalashnikov to thank for the utilitarian AK-47 rifle. Officially known as the Avtomat Kalashnikov in Russian, this ubiquitous rifle is the product of Kalashnikov's experiences during World War II. Since that time millions of these rifles have been produced in both military full-automatic versions and semi-automatic versions for the civilian market.
Many will argue that the AK-47 is not a hunting rifle. However, those in the know understand that the 7.62X39 cartridge is highly effective on medium-sized game animals such as deer and antelope. The trick to turning an AK47 into a hunting rifle is finding a scope that fits your needs and expectations.
Understanding the rifle and the cartridge are the first steps to finding a scope with the features that allow you to gain the maximum efficiency and effect from your AK-47 rifle. If you know your rifle, and you understand your expectation and needs, defining and finding the best scope for your AK-47 is not an insurmountable task.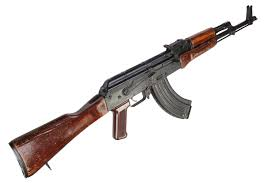 The AK-47 and the 7.62×39 Cartridge
In truth, the AK-47 was never meant to be a scoped rifle. The original intent of the Russian army was to adopt an easy to produce, reliable rifle in a caliber that was suitable for the needs of a modern army. Consequently, function prevailed over form and the AK-47 is the result.
Manufacturing and Assembly
These rifles are made from stamped metal parts for the most part making them relatively cheap and easy to produce. The manufacturing tolerances on the machined parts are much larger than most other rifle manufacturers. The design makes these AK-47 rifles virtually indestructible under even the most extreme conditions.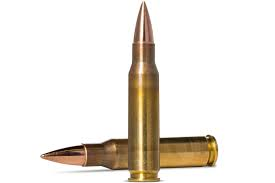 Conversion to a Hunting Rifle
Over the years, more and more shooters find these same features make the AK-47 a great field gun when a few modifications are made to the original design. The addition of the proper scope to the rifle is one of the main changes made by most hunters.
Cartridge Ballistics
The 7.62×39 rifle cartridge is available in a wide array of bullet sizes, loads and case selections. Steel cases, mostly made in Eastern Europe, are popular among target shooters because of the cost. If you don't reload, this is certainly an important factor. Looking across a number of the most popular commercial loads for the 7.62×39 cartridge we can develop a set of average ballistics for this round.
Muzzle Velocity
On average, the AK-47 loaded with a commercial 7.62×39 cartridge develops 2350 fps of muzzle velocity on average. This is a respectable amount of speed. Looking downrange we find that at 400 yards, on average the bullet retains 1350 fps of velocity. Since most American medium-sized game hunting is done at ranges of 200 to 300 yards, this cartridge carries enough speed to make it an effective hunting round.
Delivered Energy
Looking at the same set of ballistics data we find that an AK-47 develops around 1525 foot-pounds of energy at the muzzle. Downrange, at 400 yards, the bullet still delivers 493-foot lbs of energy on target. This is enough energy to ethically hunt North American deer and antelope and be confident of clean, quick kills.
Bullet Drop
One concern with any marginal cartridge is the amount of bullet drop experienced over the flight of the bullet. The 7.62×39 cartridge delivers ample speed and energy for hunting. However, past about 300 yards the bullet drop becomes excessive requiring holdovers that make an ethical shot possible. On average, at 200 yards you will experience a 4.08-inch drop. At 300 yards, this has increased to almost 23 inches and at 400 yards you must hold over almost 55 inches to compensate for bullet drop.
---
So, What Do We Look For in an AK-47 Scope Features
First, we consider the uses of the rifle and scope package. There are several possible legitimate uses for the AK-47 in civilian hands. These include:
Hunting
Plinking and target shooting
Competitive shooting especially 3-gun matches
Home Defense
There is, of course, overlap in the features that are important in each of these categories. I will look at scopes for an AK-47 that can fill many roles but have additional features that make them better for one category in particular.
---
My List of Scopes for the AK-47
As I begin a look at my choices for the best scope for an AK-47 rifle, it is important to understand that these are my views and preferences. Your needs and expectations may be different than mine. I hope that what I have to offer in the way of advice helps you make a better decision about which scope to mount on your AK-47.
Best All-Around Scope for AK 47 Rifles – Vortex Optics Crossfire II 2-7×32 Rifle Scope
The AK-47 is a rifle designed to be used in a wide range of conditions and under the most extreme conditions. If you intend to mount a general-purpose scope on your AK, the scope should be an all-around general purpose scope that performs in many different situations.
The Vortex Optics Crossfire II 2-7x32mm riflescope fits those criteria well in a package that almost any shooter can afford. You get all the features for which Vortex Optics products are known in a scope that can be easily sourced for under $150.
Features
Vortex Optics has an excellent reputation among shooters for its customer service, warranties, and performance. The supporting list of features behind this reputation is the reason this Vortex Optics scope is on my list as the Best All-Around Scope for AK-47 rifles.
Magnification Power
The Vortex Optics Crossfire line of scopes can be found with an array of magnification levels allowing you to pick the best range of magnification for your rifle and circumstances. I chose the 2x to 7x version for this list. Higher magnifications given the effective range of the AK-47 and the 7.62×39 cartridge don't warrant a higher magnified optic. 2x magnification allows for close-range shooting and the 7x high magnification allows you to shoot well beyond effective range.
Reticle
The second focal plane reticle is available in several variants. For an AK-47 all-around scope, I chose the Vortex Optics Bullet Drop Compensating reticle. One of the hardest tasks for many hunters to do effectively is range estimation and holdover. The BDS reticle makes these tasks much easier allowing for more accurate shooting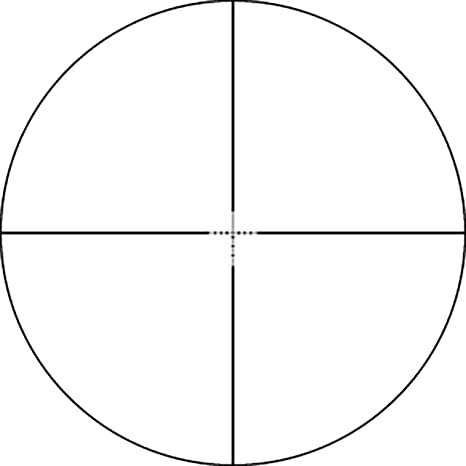 Eye Relief
Mounting any scope on an AK-47 can be a challenge. In many instances, I find that no matter what scope mounts are chosen, you need a longer eye relief than many scopes provide. The Vortex Optics Crossfire II offers a longer eye relief which can work to your advantage when this scope is mounted on an AK-47.
Lenses and Coatings
Vortex Optics coats all of the lenses on their scopes with a muli-coat system that protects them from scratches. This multi-layered coating also reduces glare and reflections that can inhibit accurate shooting.
Turrets and Adjustments
The Crossfire II scope features capped turrets that are finger adjustable. No tools are required to make windage and elevation adjustments in the field. The turrets are also zero resettable for quicker and more accurate field adjustments. Each click on a current moves the reticle 1/4 MOA.
Construction and Materials
Vortex Optics are designed to be rugged and dependable no matter the conditions. These scopes are constructed from a single tube of aircraft-grade aluminum, O-ring sealed, and nitrogen purged. This makes Vortex Scopes waterproof, fog proof, and shockproof.
Specifications
Magnification – 2x to 7x
Objective lens – 32mm
Eye relief – 3.9 inches
Field of View at 100 yards – 42 – 12.6 feet
Length – 11.5 inches
Weight 14.3 ounces
Fully multi-coated lenses
Capped windage and elevation turrets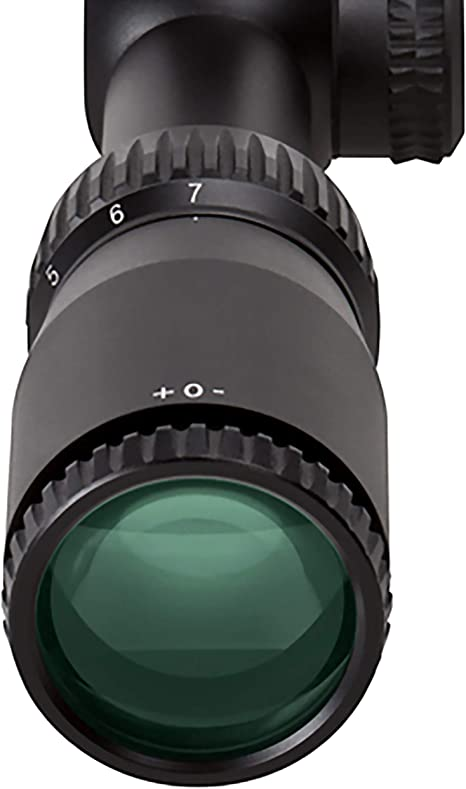 Pros and Cons of the Vortex Optics Crossfire II 2-7x32mm Rifle Scope for the AK-47
Pros
In the price versus features comparison, you won't find a better value than this scope from Vortex Optics
The BDC reticle brightness is excellent as are the light transmission qualities of this scope.
Very few scopes in this price range offer zero resettable turrets
The Vortex No Questions Asked warranty may be the best in the business.
Cons
The edges of the image may blur just a bit at the highest magnification
At the extreme of the eye relief, the eye box at high magnification may give some shooters trouble.
Last update on 2022-05-22 at 00:02 / Affiliate links / Images from Amazon Product Advertising API
My Overall View of the Vortex Optics Crossfire II 2-7x32mm Rifle Scope
The Vortex Crossfire II scope wouldn't have made my choice of the Best All-around scope if I didn't believe it was a good value. If you are a general shooter who enjoys a little range time, some plinking and target shooting this scope will fit your needs. If you occasionally venture into the field for deer, this scope will do everything you ask. Like the AK-47, these scopes are durable and can take almost as much abuse as the rifle.
Best Overall Illuminated Reticle Rifle Scope for AK-47 – Athlon Talos BTR 1-4×24 SFP IR
Many shooters prefer an illuminated reticle for their rifles. My choice for the best overall illuminated reticle for an AK-47 is the Athlon Talos BTR 1-4x24mm model. Athlon may not be a name familiar to a lot of shooters, but my experience has been excellent with scopes from this company.
The Talos line of scopes from Athlon Optics are versatile scopes that can fit into a number of categories and uses. I like the design and the features of this Talos scope for an AK-47 rifle. The features and specifications of this scope fit the AK-47 profile very well.
Features
Don't be misled by the price of these Athlon scopes. The features and specifications of these scopes are impressive and should not be discounted. You won't find much missing as you evaluate your needs and expectations against this Athlon Talos BTR scope.
Reticle
The Athlon Talos BTR scope is a second focal plane scope. The reticle is glass etched for superior clarity and accuracy. The mil-dot reticle has heavy black outside legs and a center mil-dot marked crosshair. The markings are clear and precise making this an accurate scope.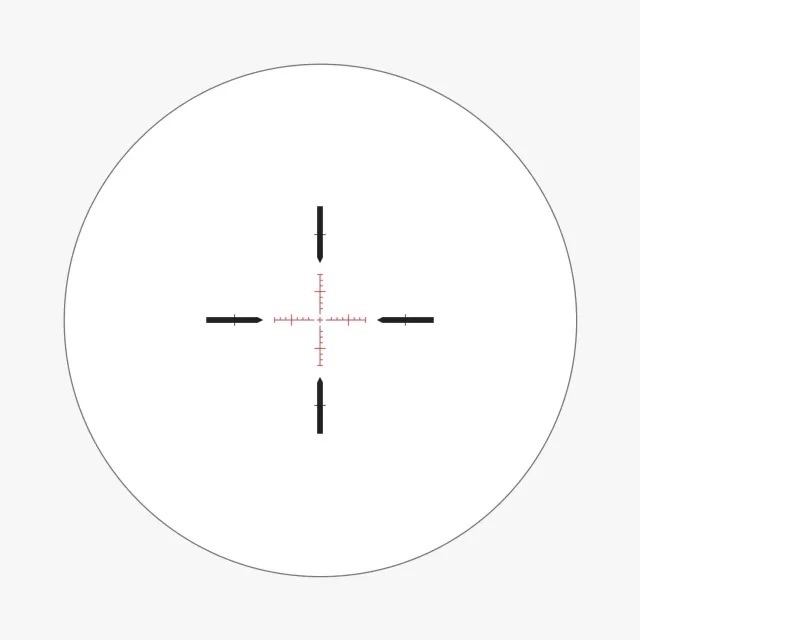 Illumination
The Talos BTR scope provides an illuminated reticle that can give you extended shooting time at dawn or dusk. If light conditions are less than optimal, the illuminated reticle brightness can be adjusted to suit the conditions. Many shooters find that an illuminated reticle is a huge plus in many instances.
Lenses and Protection
The optical glass quality of the Athlon Talos BTR riflescope is remarkably high for an entry-level budget scope. The images are crisp and clear. Distortion is minimal in most cases. The glass surfaces are fully multi-coated to protect the lenses as well as reduce glare. Light transmission is increased to give the best low light performance possible.
Construction and Materials
Athlon chooses the highest quality aircraft-grade aluminum for their scope bodies. The Athlon Talos BTR scope is built around a 30mm tube for rigid and durable construction. The scope is sealed and gas-purged for water, fog and shock protection.
Magnification
The Athlon Talos BTR chosen for this list offers a 1x to 4x magnification. This range of magnification fits the AK-47 ballistic characteristics very well. Most shooters and hunters take most of their shots at medium range under 300 yards. The 4x magnification is perfect at these distances.
Eye Relief
The eye relief on the Athlon Talos BTR scope is more than adequate for mounting on an AK-47 rifle. At the lowest magnification level, you can enjoy 6.26 inches of eye relief. At the maximum magnification level, the eye relief is 3.5 inches.
Turrets and Adjustments
Unlike many other scopes in this category, the Talos BTR scope uses exposed tactical-style turrets for windage and elevation adjustments. Each click on the turret yields .2 mills of change in the elevation or windage.
Specifications
Magnification – 1x to 4x
Tube Size – 30mm
Reticle – AHSR14 SPFR IR MIL
Focal Plane – Second Focal Plane scope features glass etched reticle and illumination
Eye relief – 6.26 – 3.5 inches
Weight 18 ounces
Parallax Adjustment – Fixed 100 yards
Length – 9.2 inches
Objective lens – 24mm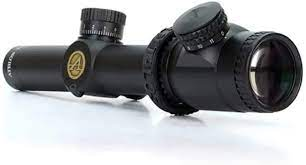 Pros and Cons of the AthlonTalos BTR 1-4x24mm SFP IR Rifle Scope
Pros
The reticle is an excellent mil-dot reticle on the second focal plane that is easy to see and use
Enough eye relief to make mounting on an AK-47 easy and still comfortable to use
Solid and rugged construction with all aluminum material that is sealed and nitrogen purged
For the money involved in purchasing this scope, you can't find many more features or better performance
Cons
The adjustment on the magnification ring is very tight. This may be a problem for some individuals.
No automatic off on the illuminated reticle could lead to short battery life if you forget to turn it off
Last update on 2022-05-22 at 00:02 / Affiliate links / Images from Amazon Product Advertising API
My Overall View of the Athlon Talos BTR 1-4X24mm SFP IR Rifle Scope
I discovered Athlon scopes several years after I closed my retail store. Had I found them earlier I can assure you that I would have had them in my inventory and available for my customers. I think Athlon produces a great scope for the money and in this category, the Athlon BTR is a standout. If you want an illuminated reticle, this is the scope I recommend.
Best Red Dot Scope for AK-47 – Vortex Optics Strikefire II
Owning a rifle for self-defense is a common strategy. You may even be a shooter who believes in being prepared for any eventuality. Choosing an AK-47 for self-defense does, in a lot of ways, make sense. However, choosing a scope for a rifle that is intended for personal or home defense needs some slightly different considerations than a standard hunting scope.
A rifle for home defense is used in a very different way. The need for speed is essential. Fast target acquisition, maneuverability, and size are all important attributes of a self-defense rifle and scope combination. The Vortex Optics Strikefire II offers all of these traits in a compact and cost-effective package.
Features
You won't find many features lacking in scopes made by Vortex Optics. Even this relatively simple red dot scope brings a host of unexpected features to the table. Finding a red dot sight that rises to this level for a comparable price may be hard to do.
Illumination and Dot Reticle
The four MOA dot is selectable between red and green at the press of a button. Ten brightness settings for each color allow you to select the optimum brightness level for the light conditions.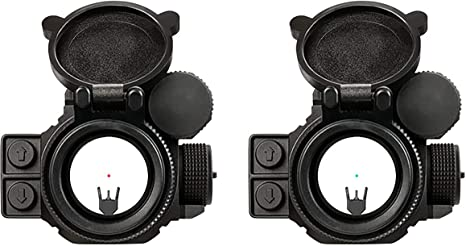 Lenses and Coatings
All glass surfaces on the Vortex Optics Strikefire II are multi-coated for optimal protection against scratches and maximum light transmission in a red dot sight. Vortex Optics uses high-quality optical glass and maintains strict quality control standards.
Eye Relief
Unlimited eye relief gives you quick target acquisition, the option for both eyes open aiming, and versatility in where you mount your scope. If you need magnified optics, mount the scope further forward to allow room for a magnifier behind the scope.
Construction
Vortex Optics uses the finest in aircraft-grade aluminum to manufacture its scopes. The Vortex Optics Strikefire II Red Dot Sight features a single-piece chassis for rigidity while maintaining its lightweight.
Durability
The single-piece chassis is rugged and durable. Strikefire II red dot sights are O-ring sealed and nitrogen purged to ensure waterproof, fog resistant, and shockproof operation. These red dot sights are a high-quality optic at an entry-level price.
Elevation and Windage Adjustments
Strikefire II red dots have windage and elevation adjustment turrets just like optical telescopic sights. You may not take many long-range shots using a red dot but you can be sure that if needed, you have the capability. Windage and elevation can be adjusted through 100 MOA to bring your rifle and scope in perfect alignment for long-range shooting.
Controls and Battery
Controls for the illuminated reticle are located at the rear of the sight for easy access in any situation. Waterproof push button controls give you instant access to illumination settings and color choices. A CR2 battery powers the Strikfire II and is easily replaced without removing the scope.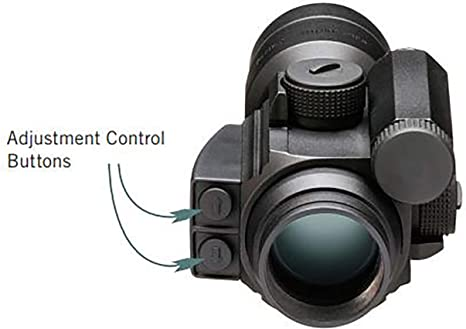 Specifications
Magnification – 1x (magnifier compatible)
Objective lens – 30mm
Dot Size – 4 MOA
Eye Relief – Unlimited
Adjustment per Click – 1/2 MOA
Parallax Free Operation
Length – 5.6 inches
Weight – 7.2 ounces
Construction – Aircraft-grade aluminum
Pros and Cons of the Vortex Optics Strikefire II Red Dot Scope
Pros
Small and lightweight.
Parallax free and unlimited eye relief allow use in close range situations and both eyes open shooting to maximize your peripheral vision
Includes a cantilever mounting system
One of the best optics for short-range quick target acquisition
Cons
The 4 MOA dot may be too large at farther distances
No auto-off feature may adversely affect battery life
Last update on 2022-05-21 at 18:43 / Affiliate links / Images from Amazon Product Advertising API
My Overall View of the Vortex Optics Strikfire II Red Dot Scope
I think I have made myself very clear about my views on Vortex Optics products. This is the scope that I chose to mount on several of my rifles and I continue to like it. I am able to shoot up to 100 yards with this scope and consistently ring a 6-inch gong. For a red dot sight in this price range, you won't be disappointed
Best Night Vision Scope for Your AK-47 – SightmarkWraith Digital Night Visions Riflescope
If you are one of the growing numbers of hunters who legally stalk game such as feral hogs or coyotes at night, you understand the concept of owning the night. Every year, more and more hunters find affordable night vision devices on the market to aid their nighttime hunting. One of the most affordable night vision scopes available today is the Sightmark Wraith Digital scope.
Unlike many night vision scopes, the Wraith is a digital scope that allows both day and night use. The digital concept also allows many features that are nearly impossible to build into a standard optical sight. This brings an entirely new dimension to an AK scope at an affordable price.
Features
Bringing digital technology into the night vision arena greatly increases the features and options that are available to shooters and hunters. Not only do you get enhanced image quality, but you can also record, stream, and share your hunting moments with your friends and family.
Digital Imaging
Unlike optical scopes that simply transmit gathered light back to the shooter's eye, digital scopes use electronic technology to capture the images, enhance the images and display those images with the addition of reticles and ballistics data to the shooter. This allows the scope to function as a night vision device or as a daylight scope with equal versatility.
Image Options
With a digital scope, many options are available that you simply can't get on an optical scope. The 4K images produced by the Wraith can be recorded on the onboard data card. Image colors can be adjusted to suit the user's taste, and magnification up to 32x is available without distortion or loss of clarity.
Reticle Options
You can customize the reticle choice in your scope for whatever the situation demands. Ten different reticle styles are available with nine color options. You can find a reticle option to fit your needs and set the color and the intensity of the reticle to meet the light conditions.
Memories
You can save up to 4 different setups on the onboard memory card. A touch of a button can reset your scope for different caliber loads, different conditions, or different targets. These profiles are user-customizable and easy to access and switch.
Infrared Illuminator
Each Sightmark Wraith comes with an infrared illuminator that can be used as a flashlight or attached to the scope for use when hunting. The IR illuminator has a better life of 90 minutes. This optic-mounted illuminator is a positive bonus for nighttime hunts.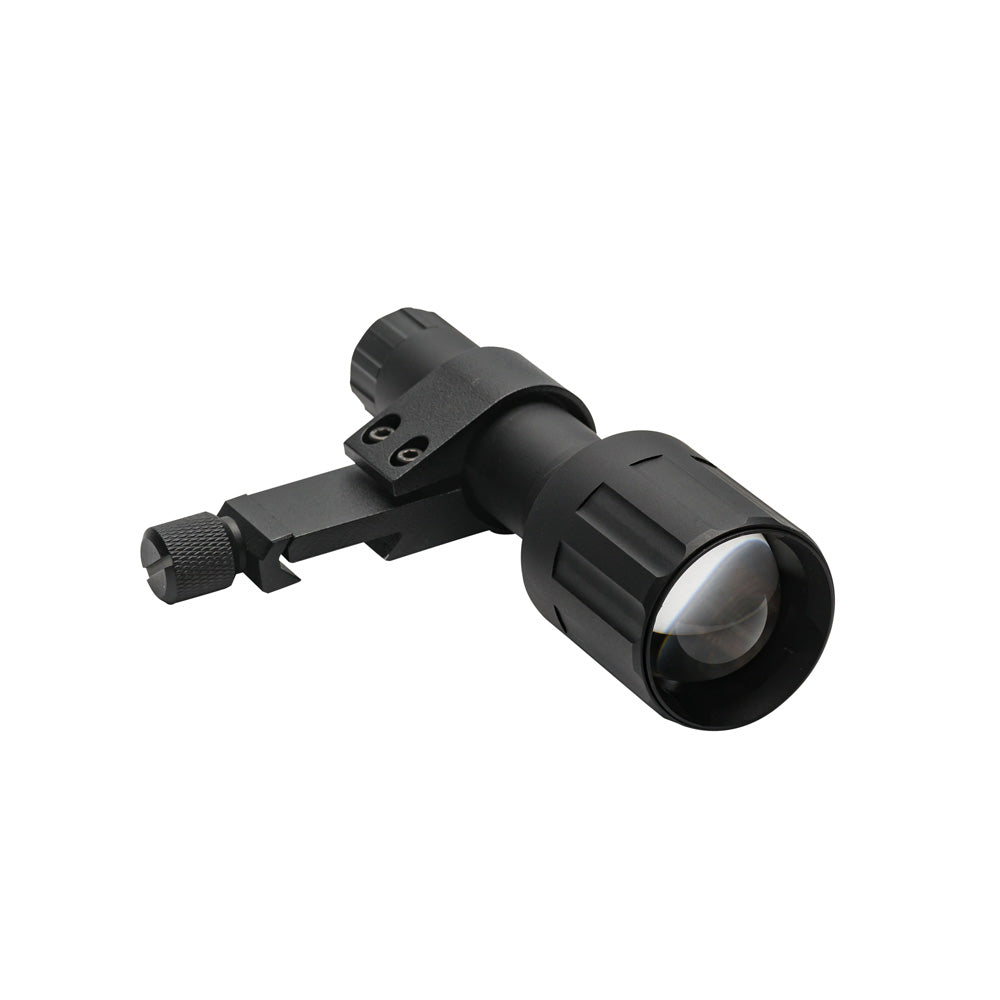 Construction and Durability
You need not worry about these electronics going into the field with your rifle. The Sightmark Wraith night vision scope is IPX5 water-resistant. The scope is constructed from aluminum and is sealed and gas-purged to make it fog proof and shock-resistant.
Battery Life
The internal lithium battery is rechargeable using the included USB cable. Each full charge of the battery will give you 8 hours of use. A separate power supply can also be used to extend your field time.
Specifications
Magnification – 4x to 32x
Objective lens – 50mm
Field of view at 100 yards – 21 feet
Eye relief – 2.4 inches
Reticles – 10 pre-loaded reticle styles
Color Options – black, white, red, blue, green, cyan, orange, yellow, magenta
Length – 10.5 inches
Weight – 36.3 ounces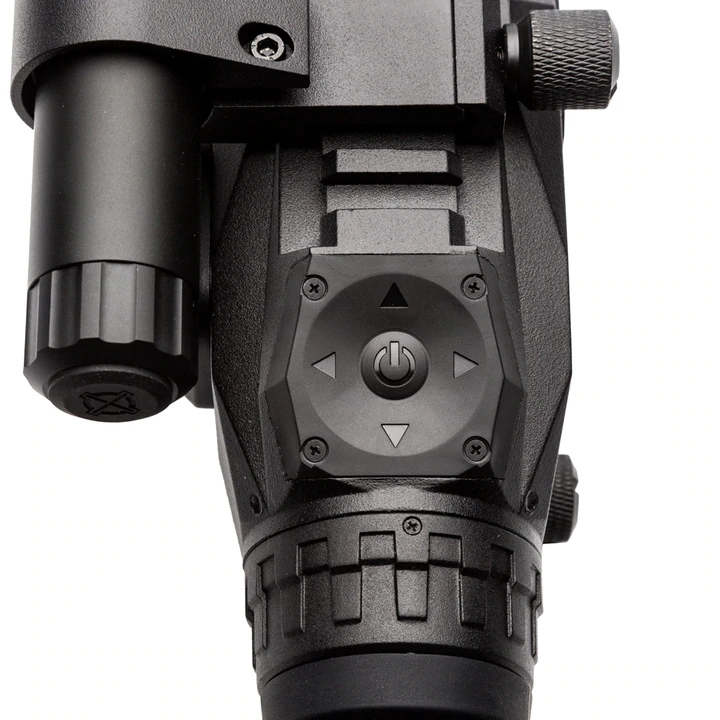 Pros and Cons of the Sightmark Wraith Night Vision Scope
Pros
Relatively inexpensive for digital night vision equipment
Easy to zero. The controls are intuitive and clear.
The video resolution is great out to about 200 yards. Not many nighttime hunters are a long range shooter so this isn't a problem
Comes with the IR illuminator for enhanced nighttime operations
Cons
The IR illuminator uses expensive CR123 batteries
At night, muzzle flash may cause a white-out effect on the scope
Last update on 2022-05-22 at 00:02 / Affiliate links / Images from Amazon Product Advertising API
My Overall View of the Sightmark Wraith Digital Night Vision Scope
Night vision seems to be all the rage right now. Unfortunately, in the past, the cost to get into the nighttime hunting game was exorbitant. Often it cost several thousand dollars to mount a night vision device on your rifle. The Wraith brings the cost of night vision into the reach of most shooters and performs an admirable job at less than $1,000. This is a great entry-level night vision device and will serve most hunters' needs.
---
Finding That Best Scope for your AK-47
The best scope for an AK-47 is the one that fills your needs and meets your expectations. This means you need to understand your hunting or shooting style, the demands your scope must meet, and your budget. I hope that my selections help you make the right decision about a riflescope for your AK-47.