If you are a concealed carry permit holder or live in a state with constitutional carry, you understand that there are places you still cannot carry your firearm. An unexpected no-carry area can create problems if you carry your concealed firearm consistently. We should all agree that a seat console or a glove box in a vehicle is inappropriate for storing a handgun. All concealed carry holders should have a car gun safe in their vehicle.
A car gun safe protects your unattended concealed carry firearm in your vehicle. Typically, the car gun safe construction uses high-quality materials. A locking mechanism secures the firearm inside the gun safe. Some models use a security cable to secure the gun safe to the vehicle. Other types require permanently attaching the gun safe with bolts or screws to the vehicle.
A car gun safe needn't be a large and complicated piece of equipment, but you should look out for security, portability, and ease of use when shopping for a portable gun safe. You may also want to use your safe in different locations, so versatility is important. The firearm you carry is also an important factor in choosing the right size car gun safe for your use.
This article will look at what I consider the best car gun safes on the market today. In particular, I will consider:
The construction and materials used in the vehicle gun safe.
The type of locking mechanism that protects your firearm.
The way the car gun safe attaches to your car.
Why Should You Have a Car Gun Safe?
Owning a firearm is a constitutional right. In many states, carrying a firearm is legal. However, all rights come with responsibilities. Gun ownership implies that you accept the responsible gun owner's duty to protect that firearm and keep it safe. These duties extend beyond your home to wherever you take your firearms or concealed carry weapons.
If you routinely carry a concealed gun, it is inevitable that you will need to leave your firearm in your vehicle last some point. Car gun safes are the only secure alternative when your firearms must be left unattended.
A Car Is Not a Gun Safe
When you put on your concealed carry holster and slide your favorite pistol into place, you also put on the duty to act as a responsible gun owner. You may find yourself in situations or places that demand you leave your firearm in a safe place. No-gun zones are becoming more and more prevalent in the U.S., and having a secure place to keep your firearm when it is illegal to carry is a given.
However, simply sliding your pistol under the seat is not a good option. Neither is dropping your weapon into a seat console or sliding into the glovebox. The number one way bad guys can obtain firearms is theft from automobiles. These people know the most likely hiding places in your vehicle and can have your gun in seconds.
Protecting Your Investment and Your Community
Failing to take the proper precautions to protect your concealed carry firearms when you cannot have them on your person can lead to devastating results. Additionally, it can lead to a loss of a considerable investment. Replacing a pistol can be an expensive task and easily avoided by having a vehicle gun safe.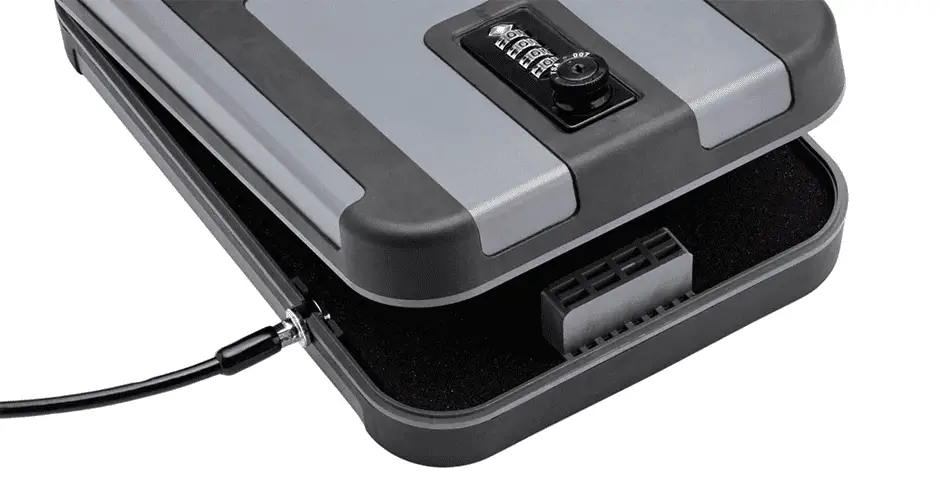 In the long run, avoiding the bad press that can result if your stolen gun turns up at a crime scene is a good argument for having a car gun safe. You could even face civil legal proceedings if the family of a gun-involved crime sees you as responsible for the gun being available to the bad guy. A good car gun safe can help protect your investment and prevent your firearm from being used in a future crime.
Our List of the Best Car Gun Safes
There are hundreds of car gun safes in almost as many styles and sizes on the market. I have looked at the offerings and included what I consider the best car gun safes for your concealed carry handguns. Remember that a car gun safe is a deterrent, not foolproof protection. The idea is to make accessing your firearm as difficult for the thief as possible while allowing you easy and quick access.
What I Looked For in Car Gun Safes
It soon becomes apparent as you shop for car gun safes: the selections are wide. From different styles to various locking systems, it is easy to get overwhelmed with the selections. As I began looking at gun safes, I made a mental list of what features were important. I decided that any gun safe I would recommend must have most of these features:
Above everything else, whichever model is chosen must be a reliable gun safe. If you can't depend on the mechanisms to function reliably, the gun safe is potentially a life threat.
Small, removable gun safes must have a dependable and robust security cable. Without a security cable, these small handheld gun safes can be easily removed from a vehicle.
Vehicle gun safes must be convenient to access and easily stored out of sight.
All the components of the gun safe must be of the highest quality and superior manufacturing.
A gun safe must have a very reasonable price so that it is affordable for any gun owner.
Your needs and expectations may be different than mine, but I think that these minimum requirements should be a part of any gun safe that qualifies to be considered among the best vehicle gun safes.
1. Best Small Portable Vehicle Gun Safe – Hornady Alpha Elite Lock Box
Hornady is well known for making high-quality shooting accessories. The Hornady Alpha Elite Lock Box is no exception. Many gun owners opt for a small compact gun safe design that offers portability and security in one package. The Alpha Elite Lock Box fits these requirements perfectly.
You won't find features lacking in this Hornady lockbox. Hornady prides itself on producing products that meet the shooting public's needs. The Hornady Alpha Elite Lock Box goes beyond the expected features.
Features
Includes a heavy-duty steel security cable rated for 1500 pounds to attach the portable lock box to any stationary object, including your vehicle.
Sixteen gauge steel housing with a pry-resistant security band around the perimeter.
High-security barrel key locking mechanism featuring a dual crossbar latch.
It easily fits under car seats.
Meets California Department of Justice and TSA airline firearms standards.
Foam padding on the interior protects your firearm or other valuables.
Specifications
Exterior Dimensions – 10.25 inches x 8 inches x 2.75 inches
Interior Dimensions – 9.75 inches x 7.5 inches x 2.25 inches
Empty Weight – 6 pounds
It fits most 1911 sized pistols and revolvers with up to a 3-inch barrel
Keyed barrel lock for tamper or pick-resistant security
If your need is lightweight and portable protection for your concealed carry firearm, the Hornady Alpha Elite Lock Bos is a great option. The tethered design allows you to secure this small gun safe inside your car. You can also use this lockbox when traveling or at home by securing the steel security cable to a secure object
Why I Chose this Portable Gun Safe
First off, it is portable. Meeting that part of the requirements is easy. Secondly, the reputation of Hornady and the obvious quality of this personal gun safe speak for themselves. I own one of these small Hornady gun safes and use it routinely in my pickup truck to protect my concealed carry firearm if I need to leave it in the truck.
Last update on 2022-04-08 at 21:53 / Affiliate links / Images from Amazon Product Advertising API
2. Best Rapid-Access Car Gun Safe – Hornady RAPiD Gun Safe With RFID Instant Access
Hornady garners another product on my list of best car gun safes. You may need the ability to securely store a duty-sized handgun where it can be easily and quickly accessed without fumbling for keys or a keypad. The Hornady rapid vehicle safe is the perfect answer to these specifications.
The RFID access system built into the RAPiD Gun Safe keeps your pistol safe, yet provides you with almost-instant access. This vehicle safe can be mounted on your vehicle console on either side. A swipe of the wrist band or key fob pops the top open instantly, giving you rapid access to your weapon.
You won't find features lacking in this Hornady vehicle safe.
Features
Sized to handle most duty-sized pistols without interference for easy access and storage.
Mounts on your vehicle console between the seat and the console. Can be positioned on either side of the console to enable the most efficient access.
RFID technology creates a secure yet rapid means of accessing your firearm. The RFID system is a true no-touch security system that can be activated using a wristband or key fob.
The Hornady RAPiD vehicle safe is covered in neoprene to protect the finish of your vehicle.
A steel security cable rated 1500 pounds is provided with each of these car gun safes. Use the safe in hotel rooms, your home, or other locations where it can be cabled to a stationary object.
A backup digital keypad and a mechanical lock mechanism for redundant, problem-free operation.
Each RAPiD vehicle safe is approved by the California Department of Justice and exceeds the ASTM standards for child and pry resistance.
Includes an inflatable mounting system that secures the safe between the car seat and console without drilling.
Specifications
Exterior Dimensions – 12 inches x 6.4 inches x 2.2 inches
Interior Dimensions – 7.5 inches x 5.6 inches x 1.7 inches
Requires 12 volts and 1.0 Amps electrical power supply
Uses 4 AAA batteries
Wristband, key fob and two barrel keys included
Instant access to your pistol can be an important factor in a self-defense situation. The Hornady RAPiD vehicle safe can provide that kind of security without drilling or permanently mounting the box in your vehicle. These are secure and reliable gun safes that also provide the flexibility to use the lockbox outside your vehicle.
Why I Chose This Portable Gun Safe:
Situations that require you to deploy your concealed carry weapon often occur rapidly and without warning. The Hornady RAPiD vehicle safe offers a secure method of protecting your pistol yet allowing you hands-free, almost-instant access.
Last update on 2022-04-08 at 22:13 / Affiliate links / Images from Amazon Product Advertising API
3. Best In-Console Gun Safe – Console Vault
If you are like me and have a center console in your vehicle, it almost seems like a natural place to stow your concealed carry weapon when it must stay in the vehicle. However, nothing could be further from the truth. Accomplished thieves target two places in a vehicle: the glove box and the vehicle's center console. A pistol laying on top of all the other clutter that accumulates in that center console is an easy target
Console Vault solves most of these problems. These car gun safes replace the standard console liner with a high-security gun safe that will stymie grab-and-run thieves. These in-console gun safes are out of sight under the standard console lid and securely bolted to the vehicle. Console Vault has an extremely wide range of vehicle coverage and offers more features than you might imagine.
Alt Image: best car gun safe for center console vault
Features
Cold rolled steel plate construction with welded tabs and notch seams
The triple guard locking mechanism resists prying
Drill-resistant, high-security lock systems
Quick and easy do-it-yourself installation
Custom-fit for your vehicle console
Spring-assisted door

Provides plenty of space for your pistol, spare magazine, and other valuables
USB ports and 12-volt outlets remain accessible and in-service
Available with several options for a locking mechanism including a combination lock, pushbutton keypad lock, key lock, or biometric lock.
Lifetime warranty
Specification
Interior and exterior dimensions are dependent on the vehicle console
These are top-of-the-line protection for your pistol and other valuables. Even if a thief breaches your car security and gets into the console, he is faced with a steel surface and a high-security lock and latch system. He can't even grab the vault box and escape to a safe location to finish opening his find.
Why I Chose This Vehicle Firearm Safe
If I wanted to install a fixed gun safe in my truck, this would be my choice. It is concealed, securely fixed to the vehicle, rugged, dependable, and almost impossible to breach in the car. The only thing keeping me from having one of Console Vaults units in my truck is that I am cheap, and I am still driving my 2006 Chevy Silverado. Console Vault doesn't have a gun safe that will fit my truck.
4. Biometric Quick-Access Pistol Safe – RPNB Mounted Gun Safe
A few years ago, the hot new innovation in the portable gun safe industry was the biometric lock. I can remember visiting several of the portable vault manufacturers as ShotShow who were demonstrating their new models that could be unlocked with a touch of a fingertip. Biometric lock technology continues to improve and remains popular with those wanting a quick-access lockbox.
RPNB has a unique take on a quick-access lockbox with their RP311F Biometric gun safes. These slim steel portable gun safes are made to mount from the top, side, or back in a vertical configuration. A swipe of your finger on the sensor pops the front opening, exposing your pistol in a ready position. These gun safes offer all the other features you would want.
Features
500 dot per inch biometric fingerprint sensor with fast match speeds for quick access
Slim vertical design can be mounted almost anywhere in your vehicle that offers easy reach and clearance for the drop-open door.
Constructed of steel and finished in an attractive black color for corrosion resistance and long life.
An easy-to-use fingerprint-activated lock.
A four-button key panel combination lock for backup lock activation.
Secure barrel lock mechanical lock if the biometric or button panel combination lock should fail.
Programmable code for the keypad lock allows you to customize your passcode.
You can store up to 50 different fingerprint impressions if you want other family members to have instant access to the car gun safe.
Foam-lined interior to protect your pistol.
Low battery warning.

Requires 4 AAA alkaline batteries.
Specifications
Exterior Height – 13.47 inches
Exterior Length – 7.43 inches
Exterior Width – 3.07 inches
Fits most pistols up to duty size
Can be mounted from the left, right, top, and back
The unique style of this car gun safe opens new options for gun owners who want a car safe that they can access without a key, a code, or having to look at the safe. A touch of the finger on the sensor drops the front opening, putting your pistol in the perfect position.
Why I Chose This Car Safe
I like the unique way this car gun safe opens. The vertical hinged opening provides mounting options different than most car gun safes. A mechanical lock is secure, but slow. The convenience of a fast operating biometric locking system gives you a car safe that can be easily accessible from the driver's seat and opened without dealing with a key or pressing a code.
Last update on 2022-04-08 at 22:13 / Affiliate links / Images from Amazon Product Advertising API
5. Best Multi-Use Gun Safe Lock Box – SnapSafe Treklite Gun Safe Lock Box with TSA Combination Lock
Many shooters use their car gun safe for more than just gun storage. TSA requirements for traveling on airlines with a handgun or long gun are very specific. This SnapSafe lock box includes a TSA-approved lock and meets the TSA requirements for traveling on airlines.
You also save weight by using the SnapSafe lockbox to provide gun safety for your compact pistol when traveling in your car or by plane. This car gun safe is constructed of space-age polycarbonate material and includes a steel cable to secure your portable safe to a stationary object. Other features make the SnapSafe lockbox a great choice.
Features
Superior gun safety at a third of the weight of conventional steel construction.
Constructed of impact-resistant polycarbonate materials.
Includes a steel security cable to securely connect your pistol safe to your vehicle or another stationary object.
Meets all TSA requirements for transporting a gun through TSA security and on airplanes.
Includes a TSA approved barrel key lock with two keys.
A fully foamed interior protects your valuable firearm.
Specifications
Exterior dimensions – 10 inches long x 7 inches wide x 2 inches tall
Accommodates full-size pistols up to and including 1911 style firearms
Weight – 2.36 pounds
Not only does this SnapSafe Treklite box do the job of securing your valuables and a pistol as a vehicle gun safe, but it also looks good doing the job. Most portable gun vaults a big black clunky-looking boxes. The SnapSafe Treklite box is elegantly styled.
Why I Choose the SnapSafe Treklite Portable Vault
For years, I used clunky large gun boxes with separate TSA-approved locks. This finally got to be such a hassle, I switched to a SnapSafe Treklite portable gun safe. It has been a timesaver and weight-saver for me. Its light weight and TSA approval get this SnapSafe lock box a place on my list for best car gun safes.
Last update on 2022-04-08 at 22:13 / Affiliate links / Images from Amazon Product Advertising API
The Best Car Gun Safe For You
In the end, the best car gun safe for you is the one that you will use. Responsible gun owners have a duty to secure their concealed carry firearms while away from home. A car gun safe is the only safe alternative. Finding the best car gun safe for your needs and expectations can be a challenge, but I hope that this article leads you to select a car gun safe that works for you.