The SKS rifle served the Russian military for many years. When the SKS was superseded by the AK47 in the 1980s, a horde of surplus SKS rifles came onto the market. At the time, these rifles were plentiful, cheap, and quickly became popular. Many shooters adopted a homeless SKS rifle and continue to shoot these workhorse firearms. Most shooters want to mount a scope like any high-caliber rifle used for sporting purposes. The question arises concerning the best rifle scope to mount on an SKS rifle.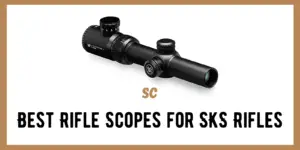 The SKS rifle is a semi-automatic carbine based on the Russian Siminov system. Chambered for the 7.62×39 cartridge, the SKS rifle manages supersonic speeds to about 400 yards. At about 400 yards, the bullet drops subsonic and behaves erratically, causing accuracy problems. These rifles make excellent sporting and hunting rifles at a reasonable cost.
Thousands of Russian and Chinese manufactured SKS rifles have been imported into the United States. Many are routinely used for hunting and target shooting. A large aftermarket industry in upgrade and enhancement products has grown around the SKS platform. Hunters especially want to mount a suitable riflescope on their SKS and wonder about the best scope solution.
Choosing a Scope for an SKS Rifle
When it comes to choosing a scope for an SKS rifle, there are several considerations. We used our usual criteria for purchasing a riflescope to look at possible choices. We tempered these factors with the truth about the SKS rifle. The SKS rifle is an inexpensive, surplus, military-grade rifle chambered for an intermediate cartridge.
Cost –  Cost became an overriding factor in choosing a scope for an SKS rifle. We had to face the fact shooters who choose the SKS as their primary hunting rifle do so because of the cost of the rifle. Consequently, the cost of adding a scope to an SKS must also remain moderate. It would not make much sense to put a $1,00 0 scope on a surplus military rifle that cost $500.
Reliability – Hunting rifles tend to take a lot of abuse as they are carried in the field. Accidents happen, and weather conditions can be bad. The SKS can certainly handle the conditions. The scope that goes on it should also take the conditions without failing.
Magnification – The 7.72×39 rifle round is not meant to be a precision long-range cartridge. Most hunting with an SKS rifle happens under 400 yards. Variable power scopes between the 4X and !2X magnification power are our choice for the SKS rifle.
These are the basic criteria that we used to select the riflescopes that appear on our list. Other factors may affect your decision. You must make a choice based on your preferences and expectations. Now, on to our choices for the best riflescopes for an SKS rifle.
Best Overall Hunting Scope for an SKS Rifle – Vortex Optics Crossfire II Adjustable Objective SFP Riflescope
If you have read many of my articles, you should know by now that I am a huge fan of Vortex Optics products. I think that Vortex sells some of the best rifle scopes for the price you can get. It should come as no surprise that my choice for the Best Overall Hunting Scope for your SKS rifle is the Vortex Optics Crossfire II riflescope.
The Crossfire two features a 1-4X magnification range. This may seem a little underpowered to many shooters. Most hunting in the US happens are rangers of less than 200 yards. A 4X magnification is more than adequate at these ranges. Considering the other features you get with Vortex Optics riflescopes, this is a gem.
The 1-4X24 magnification is perfect for ranges between 0 and 250 yards
An illuminated reticle makes acquiring your target easy even in low light conditions
A long eye relief makes mounting the Vortex Crossfire relatively easy on an SKS rifle
Vortex Optics multi-coats their lenses to provide optimum light transmission
The turrets are capped, large, and easy to manipulate in the field
A single-piece 30mm aluminum tube ensures rugged and durable operation.
O-ring sealed and nitrogen purged construction provides waterproof, shockproof and fogproof operation
Fortunately, you won't need to break open your piggy bank to afford the Vortex Optics Crossfire II riflescope. Typically, you can find these riflescopes at a street price under $200.
Last update on 2022-01-21 at 01:32 / Affiliate links / Images from Amazon Product Advertising API
Runner-up Best Overall Hunting Scope for an SKS Rifle – Riton Optics X1 Primal 3-9X40 Riflescope
Riton Optics is a relative newcomer to the sporting optics market. However, their product line has garnered a lot of attention from shooters. The quality of their optics and their customer service has put them in the crosshairs of many shooters. The Riton Optics X1 Primal 3-9X40 riflescope gets them a spot as the runner-up best overall hunting scope for an SKS on my list.
The Riton X1 Primal gets you more magnification than Vortex Optics Crossfire II and a bigger objective lens. In theory, the larger objective lens will transmit more light and give you a sharper image. Riton doesn't short you in the features department.
Capped, zero-resettable turrets make field adjustments quick and easy
Large and easy to manipulate throw lever on the magnification ring means you don't have to change position on the rifle when changing magnification
100 percent waterproof, fogproof and shockproof construction
Aircraft-grade aluminum tube
Assembled in an EP-level clean room for dust free optical operation
Unlimited lifetime warranty
Multi-coated lenses for the best in light transmission, clarity, and brightness
Riton holds the line on price and provides a good quality scope. A bit of judicial shopping will often score you a brand new Riton X1 Primal scope for less than $150.

Riton Optics X1 Primal 4-16×44
Featuring Capped, Zero Resettable Turrets / Integrated Removable Throw Lever
1/4 MOA Windage and Elevation Adjustment / Fast-Focus Eyepiece
Last update on 2022-01-21 at 01:32 / Affiliate links / Images from Amazon Product Advertising API
Best Red Dot Sight for Your SKS Rifle – Vortex Optics Strikefire II Red Dot Sight
Some hunters prefer a red dot sight at the distances most used with the SKS rifle. Red dot optics do offer some advantages over traditional reticle optical sights. Many hunters find red dot sights quicker to bring on target. In most cases, red dot sights are smaller and lighter than traditional optical sights.
The Vortex Optics StrikeFire II Red Dot sight fits the bill for hunters who prefer a red dot sight. The Strikefire II offers the features for which Vortex Optics has become noted. In addition, you get the benefit of the Vortex Optics no question asked warranty.
The Strikefire II offers both red and green dots for your choice of the aim point.
Ten brightness settings allow the dot to be adjusted for the ambient light conditions
Fully Multi-coated lenses give clean, bright images.
Unlimited eye relief is perfect for many rifles
Compact and lightweight single-piece chassis is rugged and dependable
Includes an offset cantilever mount
All illumination controls are rear-mounted for easy access and functionality
One great advantage of a red dot sight is the ability to acquire your target and place the dot with both eyes open. This style of shooting and aiming has advantages in allowing a wider field of view and maintaining peripheral vision.
Last update on 2022-01-21 at 01:32 / Affiliate links / Images from Amazon Product Advertising API
Best First Focal Plane Scope for Your SKS Rifle – Monstrum G3 1-6X24 FFP Riflescope
If you want to step up your SKS rifle scope to a first focal plane scope, I suggest looking at the Monstrum G3 1-6X24 riflescope. Monstrum is a good mid-range riflescope with features that you often don't find on scopes costing much more. Monstrum scopes won't compare with Leupold or Trijicon, but these scopes make a good fit for the average shooter for your SKS rifle.
While Monstrum is not at the top tier of rifle scopes, no one expects to put a $2,000 riflescope on a $500 rifle. Even at a modest price, Monstrum delivers good performance and a list of features that is not to be dismissed.
High-performance tactical style rifle scope
1-6X magnification
First Focal Plane reticle
Easy to read ranging information
Dial control illuminated reticle allows multiple illumination settings for almost any light condition
30mm sealed aluminum tube construction
Water-resistant and fog proof
The package includes a Picatinny scope ring mounts, a detachable honeycomb glare filter and spring-loaded lens caps.
For the average hunter who wants to outfit their SKS rifle with a first focal plane scope, the Monstrom is an economical choice. You won't find many first focal plane scopes that offer this list of features for the price.
Last update on 2022-01-21 at 01:32 / Affiliate links / Images from Amazon Product Advertising API
Best Budget Scope for Your SKS Rifle – UTG 3-9X32 BugBuster Scope
If you are on a tight budget but still want a decent scope for your SKS rifle, take a look at the UTG 3-9X32 BugBuster rifle scope. In the realm of budget scopes, UTG has become a standout. Leapers, the UTG line of scopes manufacturer, offers a wide range of scopes in various styles. The BugBuster seems to have been designed with the SKS rifle in mind.
You won't find many scopes that offer the features, quality, and durability of the BugBuster scope for less than $100. Yes, this scope is manufactured in China using Chinese optical glass. However, Leapers maintains tight quality control and offers excellent customer service on their products. Check out what you can expect to find in this UTG scope.
One inch aluminum tube housing that is emerald coated for the highest level of light transmission
Premium lockable Zero resettable turrets with ¼ MOA per click adjustments
Both red and green illumination of the reticle.
Large field of view with an adjustable objective lens for parallax adjustment from 3 yards to infinity
Generous eye relief
The package includes the scope, a d" sunshade, flip[p-up lens caps, and quick detach mounting rings
Sealed and nitrogen filled construction
If you are a budget-conscious hunter who wants a reasonably priced riflescope that delivers a higher quality of performance than the price suggests, you should consider the UTG Bugbuster rifle scope for your SKS.
Last update on 2022-01-21 at 03:47 / Affiliate links / Images from Amazon Product Advertising API
---
The Mystique of the SKS Rifle
The SKS rifle has a certain mystique with shooters. It is by no means considered a beautiful rifle. The manufacturing, by most western standards, is almost crude. The stocks are not crafted from high-quality woods, and the metalwork is often described as utilitarian. There is no mystery about this. The Russian arsenal industry intended to produce reliable and durable firearms without much regard to looks.
There is no doubt the Russian arms manufacturers achieved their goals. These rifles are great upgrade firearms from the ubiquitous .22 rimfire rifles. The 7.62 rifle round can bring down most North American game animals. Many deer hunters routinely shoot SKS rifles. These imported rifles are easy to maintain, quick to disassemble and clean, and operate reliably under the most miserable conditions.
The price of an SKS rifle has risen sharply over the past few years. When the rifles first appeared on the American market, they were cheap. At that time, you could purchase an SKS rifle that looked like it had never been fired or handled for under $100. Today the same rifle can be found for between $400 and $1000 based on the manufacturer and the condition.
The SKS As a Hunting Rifle
Before you take your SKS into the field on a hunting trip, it is best to have a little understanding of the characteristics and performance of the rifle and the cartridge. In many ways, the SKS rifle makes a good intermediate-range hunting rifle. On the other hand, the SKS design does have some inherent disadvantages that must be considered.
Advantages of the SKS Rifle
It is easy to create a list of reasons you should consider buying an SKS rifle as an intermediate-range hunting rifle. These reflect what we hear from others who routinely use the SKS as their primary hunting firearm.
For a relatively low price, you can get a military-grade rifle. The SKS may not win any beauty contests. However, it has features that many more expensive hunting rifles don't provide in the areas where it counts. For example, most SKS rifles have a chrome-plated bore.
The cartridge is modest by most terms. The 7.62×39 rifle cartridge is still the standard military issue round used by the Russian and Chinese military. Factory ammo provides a modest 2300 FPS muzzle velocity that remains supersonic to about 400 yards. For most game animals in the US, this is more than adequate.
The ten-round hinged box magazine is more than adequate for hunting purposes. Some SKS owners have modified their SKS rifles to use detachable magazines. In many cases, when we hear reports of feed problems with the SKS rifle, it is due to a modification of this sort. On its own, the design of the SKS is robust and reliable. Why change what works.
The combination of the 7.62×39 cartridge and the weight of the SKS rifle produces a comfortable firearm to shoot. The weight of the SKS helps moderate the recoil.
For the most part, ammunition for the SKS is still plentiful and relatively easy to find. There is a lot of surplus ammo for the SKS still on the market. The SKS rifle was designed to use cheap military-grade steel-cased ammo.
Disadvantages of the SKS Rifle
On the other hand, some things about the SKS rifle may be a barrier for some people. These are the most often mentioned among the downsides that many shooters find about the SKS.
The SKS comes with an integral bayonet attached to the rifle. It is possible to remove the bayonet. However, many shooters report that removing the bayonet affects the SKS rifle's accuracy at longer ranges. Many serious shooters suspect that removing the bayonet changes the rifle barrel harmonics.
The trigger assembly on the SKS rifle is adequate at best. There seem to be many variations between rifles in the amount of play and travel in the triggers. Soviet rifles, for the most part, were never meant to be competition-grade firearms. The Soviet military was more interested in functionality and reliability than finely-tuned triggers.
The SKS was designed as a cheap, easy-to-produce military rifle. The sights on the rifle are rather crude. The standard issue on the SKS was a rear ladder-type peep sight and a single hooded post front sight. There is not a lot of adjustment in either the front or the rear sight. It has been rumored that Soviet armorers were quite happy if they could get an SKS to hit a dinner plate size target at 50 meters.
There is no provision on the SKS to mount an optic. There are many aftermarket solutions to this problem. Some of them work very well. Some of them not so much.
---
Which is the Best Rifles Scope for Your SKS?
The answer to that question really lies with you. Your preferences, hunting habits, and expectations should always be the deciding factors in any riflescope choice. My selections are based on what I look for in a scope, how I expect to use that scope, and my expectations of the scope's performance.