If you mention the Elcan Specter DR 1.5-6x scope to most of your hunting buddies or the other coffee drinking range denizens, you will get some confused looks. Not many casual shooters recognize the Elcan name, much less the SpecterDR line of scopes. Elcan is somewhat overshadowed by its competition which keeps most of us unaware of these scopes.
Raytheon makes Elcan scopes. The Elcan SpecterDR 1.5x-6x red dot scope was born out of the development of several military contracts. After losing several DOD contracts, Raytheon went to work to redesign its scopes, creating the second evolution of this scope line. The SpecterDR optics that resulted were a hit with the military, and SOPMOD ordered over 6,000 of the SpecterDR scope.
We all benefit from the innovative spark fanned by DOD contracts, and the Elcan SpecterDR 1.5x-6x scope is one good example. While this scope is primarily designed for military and law enforcement everyday professional use, it does have its place in civilian shooting. There are still a few downsides to the Elcan SpecterDR, not to mention its price.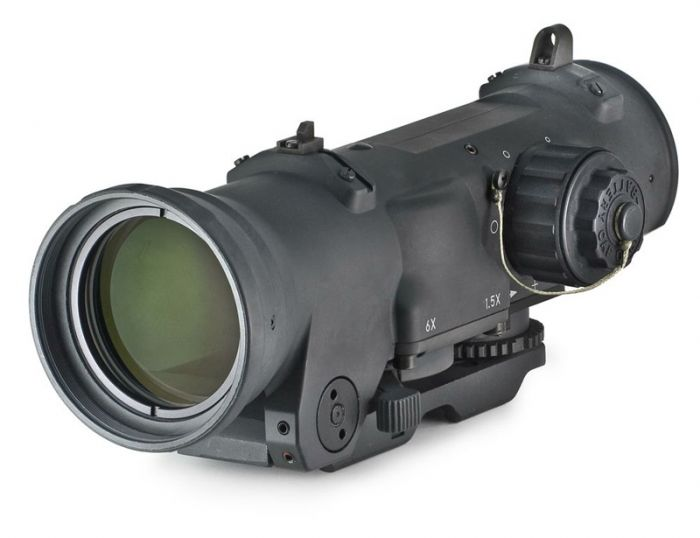 ---
The Elcan SpecterDR 1.5x-6x Scope – Features, Functions, and Specifications
Raytheon designed the Elcan SpecterDR Rifle Scope to military contract specifications, and it shows. Several military services have chosen the Elcan SpecterDR as the primary scope for the designated marksman rifles. SpecterDR sights are, by all standards, built like M1 tanks and offer features that many civilian shooters never consider when choosing a rifle scope.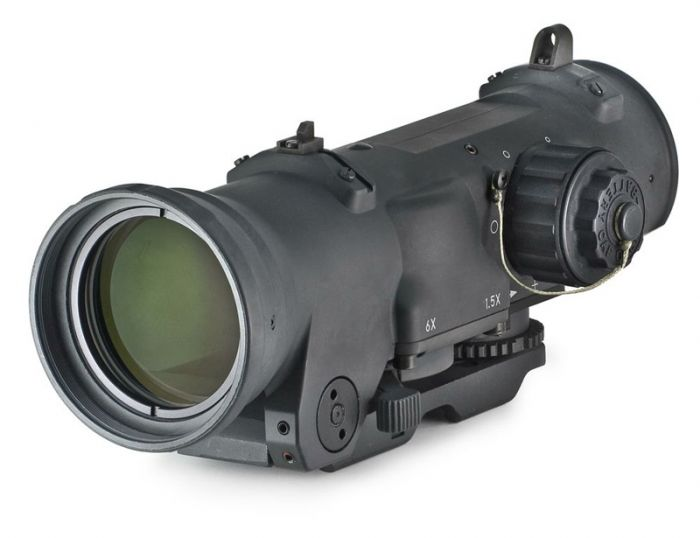 Features
Some revolutionary features on the Elcan SpecterDR 1.5x – 6x rifle scope need some additional scrutiny. These features are slightly different from what most shooters expect and need additional explanation. Many of these features make the SpecterDR 1.5x-6x so popular with many professional shooters in the military and law enforcement.
Reticle or Red Dot?
Technically, the Elcan SpecterDR is both. This scope features red dot illumination or an illuminated crosshair with a user-selectable red dot and VSOR rangefinder. These features give shooters a much wider range of options making this a dual-role optical sight. Controls for these functions are well placed and easy to manipulate, critical in many CQB engagements.
The Reticle
The Elcan SpecterDR family offers a glass etched reticle that is clearly visible even if you suffer a battery failure. The reticle features a dual thickness ballistic crosshair fitted with a user-selectable red dot. The brilliant red dot diameter is 1.5MOA at 6x magnification and 6MOA at 1.5 x magnification. At 100 yards and using the 6x magnification, the red dot covers only 1.5 inches.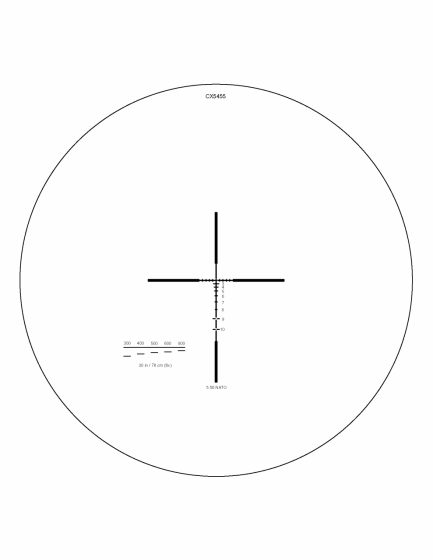 In addition, the entire crosshair can be illuminated for easier viewing and use during low-light situations. The ballistic crosshair is calibrated for 5,56 NATO, 7.62 NATO, or .50 Caliber NATO ammunition.
Magnification
The Elcan SpecterDR 1.5x-6x riflescope doesn't offer telescopic zoom options, unlike more traditional scopes. This dual role optical sight operates for close-quarters use or longer engagement ranges with the throw of a lever on the scope housing. The scope switches instantly from 1.5x to 6x magnification or back again.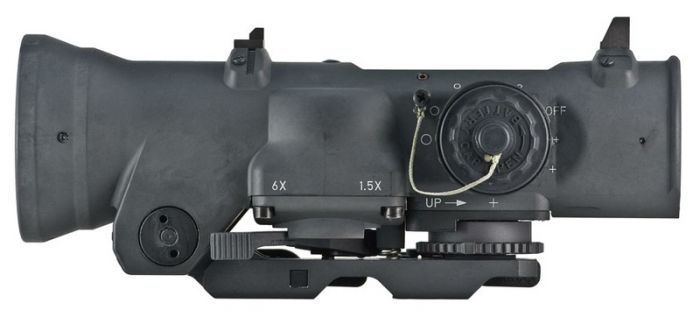 The Optics
Raytheon understands that optical sights depend on the quality of the glass used in the lens-making process. Consequently, the Elcan SpecterDR 1.5x – 6x scope has some of the best optical glass that can be sourced. The result is crystal clear optics with the highest clarity and the best light transmission possible. These properties make the Elcan SpecterDR one of the best low-light scopes you can mount on your rifle.
Battery Life
A legitimate question about any riflescope with an illumination source is the expected battery run time. The Elcan SpecterDR uses a CR2032 battery for its electrical power. If left on the highest illumination setting, you can expect 2,000 hours of battery life. Average users get about 3,000 hours of use on a fully charged battery.
Night Vision Compatibility
Night hunters are not left out of the equation. The Elcan SpecterDR 1.5x 6x red dot scope is night vision compatible. This compatibility includes PVS 22-night vision compatible operations. You can select from 5 settings on the AN PVS 22-night vision compatibility. The dual role optical sights work equally well a long-range, short-range, and CQB engagements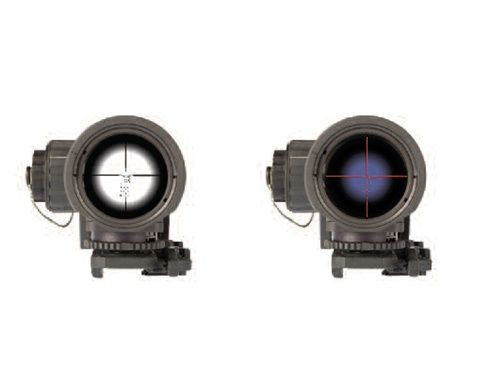 Construction and Durability
Raytheon constructs the Elcan SpecterDR 1.5x-6x dual role optical sight to meet rigorous military standards for both operation and construction. Aircraft-grade aluminum is used for the housing. Each scope is then given a hard-anodized aluminum gray-black color finish for additional protection. This hard-anodized aluminum gray-black color finish protects against corrosion, water intrusion, and damage to the scope body.
Specifications
No discussion or review of a rifle scope of this quality and distinction would be complete without at least a quick look at the technical specifications. My list is not exhaustive, but I chose these items to give you an idea of the design details behind the Elcan SpecterDR scope.
Magnification – Dual role user-selectable 1.5x or 6x
Length – 183 mm
Width – 75 mm
Height – 73 mm
Weight – 705 g
Reticle – Dual thickness ballistic crosshair with a user-selectable red dot and VSOR rangefinder
Dot Size – 1.5MOA @ 6x, 6MOA @ 1.5x
Focal Plane – second focal plane glass etched reticle
Reticle Style – CX5455 for 5.56 NATO, CX5456 for 7.62 NATO
Illumination source – Battery-powered LED
Crosshair illumination – 5 settings AN PVS 22 compatible
Dot illumination – 5 settings AN PVS 22 compatible
Eye relief – 70 mm
Adjustment per click – .5 MOA
Mounts – Mil-Std 1913 Picatinny rail or Weaver compatible mounts
Waterproof to 66 feet for 2 hours
Shockproof rated to 450 gs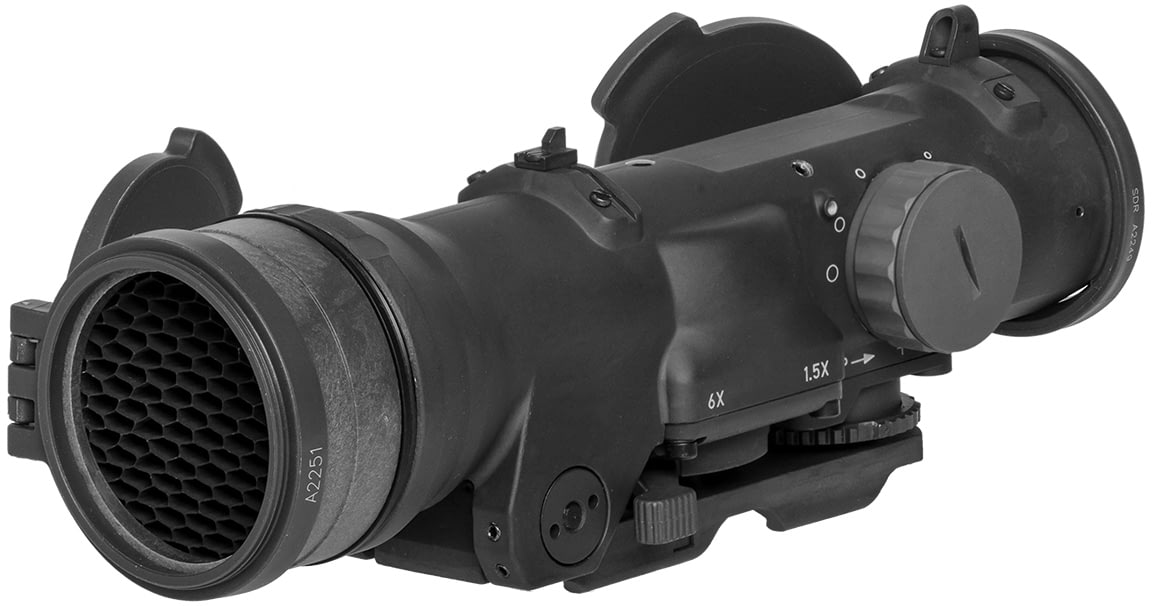 ---
What I Like About the Elcan SpecterDR 1.5x 6x Dual Role Optical Sight
A better question is what not to like about the Elcan SPecterDR red dot scope? However, I will get to that question later in the article. Any shooter should have an Elcan SpecterDR on their wish list. If you want a scope that can stand up to the rigors of modern professional shooting, this is the scope for you. If you are an average or casual shooter, the price may be daunting, but quality speaks for itself.
Dual Mode Fixed Focus Range
I think this is a solid and versatile concept, especially for anyone who needs CQB mode or long-range capabilities with a ballistic crosshair with user-selectable illumination features. The SpecterDR dual role optical sight can give you the flexibility to meet any challenge. The quick lever allows the magnification to be changed instantly.
Integral Anti Reflection Device
an ARD anti-reflection device is crucial for any optical sight intended for CQB or when the scope is used with designated marksman rifles. Reflection prevention is essential for these uses, and an integral a.r.m.s is the best method to achieve this goal.
Quick Detach Mounts
Every Elcan SpecterDR scope is fitted with quick detach mounts. Quick detach mounts are essential for a working rifle. A malfunction can easily disable a rifle but leave the scope functional. The ability to rapidly change the scope to another firearm can be a lifesaving feature.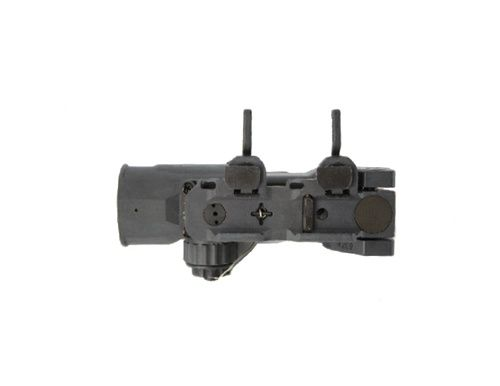 Quality of Construction
I don't think you will find a tougher scope on the market than the Elcan SpecterDR. This scope is built with the knowledge that it must stand up to the rigors of the worst possible conditions. Raytheon makes sure that this scope can take the extremes in the environment and use that a true combat scope requires.
Clarity and Brightness
Looking through the Elcan SpecterDR dual role optical sight is amazing. The clarity of the images and the brightness of the transmitted light are exceptional. Many traditional optical sights wish they could match the optical performance of this scope.
Aiming Dot Size
One of the chief complaints about other red dot optical sight platforms is the size of the red dot projected onto the reticle. Many other scopes offer a 3 or 4 MOA red dot which can obscure large portions of your target at a longer range. The 1.5 MOA red dot on the Elcan SPecterDR rifle scope offers minimal intrusion into the target while giving a precise aiming dot diameter that is plainly visible to the shooter.
---
My Final Thoughts on the Elcan SpecterDR 1.5x 6x Optical Sight
Many shooters question why they want or need such an expensive optical sight to mount on their rifles. If you are a professional shooter in the military or law enforcement arenas, you want the best possible equipment on equipment on which your life may depend. Competitive shooters who contest in 3-gun matches benefit from having this scope's dual field magnification option. Casual shooters benefit from running Tier 1 gear on their rifles, even for hunting or target shooting.
You won't find many better optical sight packages on the market. The price may be a deterrent, but in the end, it almost always proves true that you get what you pay for. In the case of the Elcan SPecterDR 1.5x 6x scope, you get dependability, rugged construction, and exceptional images in the scope.